A special place for you and your quilting, crafting, scrapbooking friends or groups to get away and create without daily interruptions.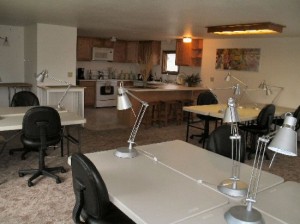 Our Retreat is expressly designed with the quilter in mind and we have room for up to twelve (12) quilters who want to have the perfect quilting retreat. The sewing room has uniquely designed quilting stations keeping with the quilter in mind. Each station has its own swivel wheeled chair and special light to provide individual lighting. There are spacious cutting tables complete with large cutting mats and rulers.  All you bring is your sewing machine and plenty of fabric! We also are the owners of Quilter's Corner Etc (www.QuiltsInMontana.com), a full service quilting shop that is open seven (7) days a week and minutes away from the Retreat
The sleeping quarters are a comfortable and roomy enough to fit two (2) people per room without being crowded. The house has six (6) bedrooms with a personal sink in the bedroom. There is a bathroom with toilet and shower between two rooms enclosed with pocket doors on either side for privacy.
As for the rest of the house, it is fabulous!! The sewing room is separate so if you are an all night sewer, you will not disrupt those that want to sleep. We have also made a "Quiet" room away from the sewing area for that quiet stitching time. In the "Quiet" room there is a television with plenty of movies to watch.
The kitchen is stocked with basic cooking utensils and enough dishware for at least twelve (12) people. Best of all, there is room for everyone to eat in a large dining room so you can catch up on each other's lives. You can bring your own food or shop at the local grocery store.
If you want to learn more….continue to  look through our website, if you are ready to book, check out our reservation calendar for available dates.