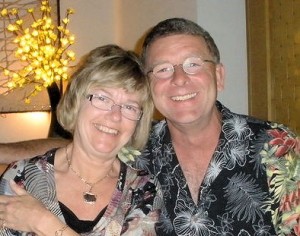 Donna is a long time quilter and owner of Quilter's Corner Etc (QuiltsInMontana.com), and a retired (but still likes to help you out when you are in pain) Physical Therapist, as well as a very active volunteer within the community.
Ed is the construction genius and planner behind the retreat business when he is not working at his full job as Project Manager for Jordan Construction.  He also is very active within the Deer Lodge community.
They love this area of Montana and have long thought it as a perfect "get away" for the tranquil types of activities. Donna who loves to quilt into the night thought that she could open and run a quilt retreat that would please everyone. So in 2007 they started the search for the "perfect" retreat "inn" and location.
In 2008 they found this great property with it's gorgeous view of Mt. Powell and the Pintlar Mountain range – they know and love the view as they live just behind the retreat. The remodeling began of this existing home, incorporating all of the "wish list" items that Donna always wanted when she attended quilt retreats at the different inns and retreat opened in 2008. So that is how Mountain View Retreat started and continues to grow and improve each year.
Come join us in Deer Lodge, Montana, you will be happy you did!!