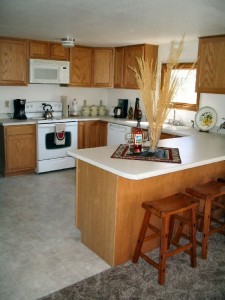 Retreat Kitchen ~ A wonderful space for some gourmet cooking or just to make some snacks to keep your energy up for quilting and crafting. It comes furnished with the basic cookware, plenty of dishware and flatware. There is also a dishwasher!!
Bring your food or shop at our local grocery stores. Or you can totally enjoy and relax as we have a local chef that will cater to you….let us know and we will put you in contact with them.
---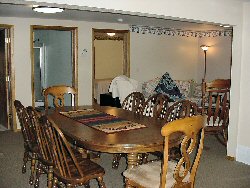 Retreat Dining Area ~ This area is large enough to comfortably seat at least twelve people. This is one of the most requested items mentioned when we were researching "what people want'. We know you all want to sit together to catch up on each others lives.
---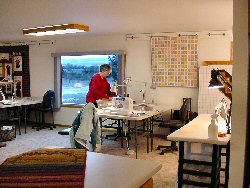 Sewing Area ~ The sewing area is a dream come true!! There are sewing stations each with a wheeled/swivel chair, special light for individual lighting and other extras. There are three (3) spacious cutting tables complete with large cutting mats and rulers.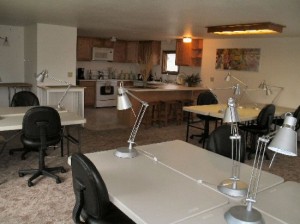 The ironing stations have their own irons and are ready to go. This area separate from the sleeping area so you can sew long into the night without disturbing others.
***This area has been extended to make for a larger sewing area as of September 2014.  Pictures to be uploaded soon!
---
Quiet Quilting Area ~ This is the area separate from the sewing room for those times of handing stitching and just quiet time. We have a television complete with movies to watch and bring your cd's and dvd's as well….relaxing and enjoy uninterrupted sewing.
---
The Rooms ~ We have six (6) bedrooms with adjoining bathrooms. We have put personal sinks in each room for your use. There are pocket doors into the shower and toilet area. Two (2) bedrooms will share one (1) bathroom. The bedrooms are spacious and easily fit two (2) people in a comfortable manner.
---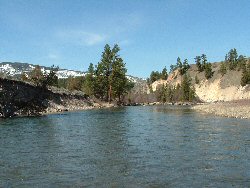 The Great Outdoors ~ The view of Mt. Powell and the Pintlar Mountain Range is fabulous from the retreat. We will be adding more sitting areas to our outside area for the summer of 2009. However, close by is a wonderful walking path, Arrowstone Park. This is a great way to stretch those muscles, walking along the Clark Fork River, enjoying the sights and sounds of the outdoors. Gorgeous in the morning, peaceful in the evening!!
---
Quilting Supplies ~ Best of all we also own the local quilt shop – Quilter's Corner Etc, online as QuiltsInMontana.com, and are open seven (7) days a week. You find our staff intelligent and helpful…..being quilters themselves, they know how this "addiction" is and love to share with others. We carry lines of cotton, flannel, batik fabrics from all the major manufacturers, kits, and notions. Just let us know what you need…and we will be more than happy to help you.